my shopping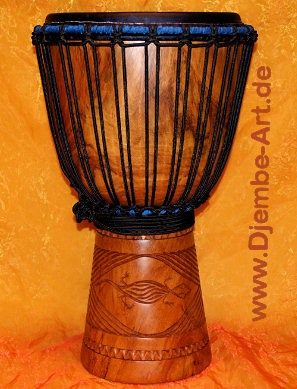 © 2000-2015 Gavin Grosvenor

Absolutely essential and often totally underestimated is the quality of the tone wood used for drum making. The sound is created not only by the vibrations of the drumhead membrane and the associated stimulation of the airspace in the drum. The entire wooden shell vibrates itself and it reflects soundwaves from its surface at the same time. The harder the wood, the stronger the reflection. The softer, the more sound energy is absorbed. This does not only effect the volume of a drum, but also the entire sound quality. Each tonewood has its own characteristics that a professional drum maker uses to create a specific sound.

Within one single species there can also be major differences, relating on in which earea the tree was growing and what conditions such as temperature, light, water and nutrients were available. The quality also differs depending on from which segment of the tree trunk the drum was carved. Lower parts are generally heavier and darker and higher parts are lighter. On some timbers, such as African Rosewood, you can even detect very distinct color differences between the lower and upper areas. At the base of the tree the wood is very dark and can be almost black in color. The top of the same tree can be as bright as honey so that you can hardly believe that this is the same tree. Finally I would like point out that most timber segments from Westafrican trees have distinctive zones. In the middle you find the darker and harder core which is known as heartwood, followed by the very much brighter coloured and softer so called sapwood. The sound difference is tremendous. The more heartwood you use for making a drum the fuller and richer the resulting sound is. African wood from climate zones around the equatorial belt have a decisive advantage over European timbers. They have no annual rings, because there is no winter rest period for the growing tree. For this reason most African timbers have much less tendencies for cracking.
The worlds most important Djembe timbers:
© 2000 - 2015 Gavin Grosvenor
Buschmango Wood

Trade names: Wild Mango, Sunbird Tree
Local names: Malinke Doda; Bambara: Dugura; Senegal: Cul Cul or Dimb
Other names: Imbubuli, Thunzikhulu, Umbubuli, Vovovo
Latin: Cordyla pinnata, belongs to the family of Fabaceae; synonym: Cordyla africana. It shows great similarity to Teak Wood (Tectona grandis).



Casha Wood

Trade names: Casha, Cassia
Latin: Cassia siamea, belongs to the family of Fabaceae. Extremely rare but has exelent tonal qualities.



Guélé Wood

Trade names:

African mesquite,

Iron Tree
Local names: Malinke/Bambara: Guélé, Gele, Numun Yiri
Other names: Bois de Forgeron, African Ironwood, Eisenholz, extremely hard, dense and heavy. Its color is dark red almost purple.
Latin: Prosopis africana belongs to the family of Fabaceae.



Iroko Wood

Trade names: Iroko, African Oak, Chene dAfrique, Kambala, Odum
Local names: Cote dIvoire: Iroko; Ghana: Odum
Latin: Chlorophora excelsa and C. regia, belongs to the family of Moraceen. This tree is one of the most widely spread trees in all tropical African forest formations. It reaches heights of 50m and diameters up to 2m. It is not quite as hard as the timbers metioned above. Its strength, however, is similar to European oak. The best Iroko quality comes from the Ivory Coast.



Kapok Wood

Trade names: Boumbou Wood, Kapok Wood, Silk Cotton Tree
Local names: Malinke: bungkungo, bunkungo; Wolof: Garablaobe, Kattupa; German: Roter Seidenwollbaum; French: Kapokier; English: Red-flowered Silk Cotton Tree
Latin: Bombax costatum, belongs to the family of Malvaceae.



Lenké

Wood

Trade names: Doussie Lenké, Lingue
Local names: Malinke/Bambara: Lenké; Ivory Coast: Lingue
Latin: Afzelia africana, besides also Afzelia bella, A. bipindensis, A. pachyloba are belonging to the family of Leguminosaceae. Lenké has exceptional sound characteristics and is very well suited for Djembe drum carving. It promotes clear sounds and a good differentiation. The shares of the bass, tone and slap sounds are balanced and distinctive. Lenké has always been counted to be the most valuable African timber for Djembe making due to its hardness, density, elasticity, its durability and resistants.



Mahogany Wood

Trade names: Mahogany, African Mahogany, Kaya, Acajou, Cailcedrat
LLocal names: Guinea: Samanguila; Malinke/Bambara: Djala; Ivory Coast: Dubb, Doukouma Krala, Ira; French: Bois Rouge
Latin: Khaya senegalensis, even Kaya grandifoliola, K. anthotheca and K. ivorensis are belonging to the family of Meliaceae. These trees reaches heights of over 45m and diameters up to 1m.



Melina Wood

Trade names: Melina, Melian Wood, White Teak
Local names: Guinea/Malinke: Melina; French: Bois Blanc; other names: Irib
Latin: Gmelina arborea belongs to the family Verbenaceae. It is a very light wood that can be easily processed accordingly. Its strength is still resonable. Its color is light yellow to grayish white. It plays a minor role amoungst resonant African timbers. It is favored in Guinea for the big bass drums Dununba, Sangban and Kenkeni. Since a few years, it is also used to manufacture cheaper Djembe drums.



Rose Wood

Trade names: Palisander, African Rosewood, Afrikanisches Palisander, Afrikanisches Rosen Holz, African Blackwood, Balafon Wood, Afrikanischer Kinobaum, Padouk, Padauk, Barwood, Grenadill
Local names: Malinke: Gbeng, Gbilling; Bambara: Guénou, Gbany, Balairi; Susu: Ghari; other names: Mukwa, Muninga, Véne
Latin: Dalbergia melanoxylon, Dalbergia spp. belongs to the family of Fabaceae, Tribus Dalbergieae. There are over 200 Dalbergia species.



Siri Wood

Trade names: Siri, Mukarati
Local names: Malinke: Siri, Bambara: Siri, French: Mukarati, other names: Kolo, Kurdi, Atakpla, Mucarala
Latin: Burkea africana, belongs to the family of Fabaceae, Tribus Caesalpinioideae.
Siri is a very hard wood. The fresh heartwood is pinkred and becomes with increasing age reddish dark brown. It is rather rarely used for drum construction.



Tweneboa Wood

Trade names: Tweneboa Wood, Tweneboa Tree, Palm Wood, Drum Tree
Local names: Ghana/Asante: Tweneboa, Kyeneboa, Kyenedua (Kyen = drum; dua = tree), Tweneduru, Akyaboa; Nigeria: Oma, No Kiebo Eke, Egin Ogume; Kamerun: Boomba, Yombomba, Bola, Yom
Latin: Cordia millenii belongs to the family Boraginaceae This tree grows up to 15m high and occurs in Ghana, Nigeria, Ivory Coast and Cameroon. Because of its wide umbrella-shaped crown, it is planted in the villages. It is used for drum carving in Ghana, because it is internally soft and often developes hollow inside with age. The name Tweneboa directly translated means drum tree. The wood has no special sound characteristics but it is extremely easy to carve. Thats why it is often used for drum making in Ghana, traditionally for Kpanlogo drums and in recant times also for the cheapest Djembe drums.
How a Djembe drum is carved from a Lenké wood tree trunk




Comment on YOUTUBE< 21.12.2013 from Alan Tauber, USA I have seen this over and over again, in Guinea. Depending on my mood I guess, I get so upset sometimes. I KNOW how hard they all work. Days and weeks and months to build a drum. And it gets heated in tin shacks for maybe years till they cure and the water goes out. The drums get transported here and there and back again. Then maybe some decoration for looks and the rings are made for each drum. Welding takes place when there is electricity. They have to get decent rope which is another whole story. NOT EASY. None of it.

And what can they get paid? Not much Im afraid. Probably comes out to 5 cents US per hour. These drums should cost at least $2,000.00 US and the carvers and their families should be taken care of. But, instead, people come to my shop, whether they see my videos of carving or this one and they still want a discount. I am very sad right now. How can we change this? It kills me to watch this. And thanks for making this video and posting for all to see.

>Answer on YOUTUBE< 22.12.2013 von Gavin Grosvenor Dear Alan Thank you for your precious comment. You are right, well made full size hardwood Drums totally made in the US or Europe would have to cost close to 2000 € / $ due to the many hours of workmanship + material costs for quality wood, skin, ropes and rings etc. Wages in Africa are generally far away from European and American standards. Your comment of 5 ct per hour seems to be impossible, but we are not surprised that such practices still exist in Africa. How could it be possible otherwise, to see full size Djembes advertised at dumping prices under 100 € /$ on the European and USA markets? - by paying workers extremely low wages - by avoiding to pay taxes and social security in Africa - by wild cut trees, without government permits and here again no taxes - by avoiding correct customs declarations during imports.

To lay it open, we see that they our workers are paid around 10 $ per day, this is at least three times more than a usual Djembe worker earns in Africa, and lightyears away from the 5 ct workers, + they get a warm meal per day, fresh drinking water, and they have access to decent showers and toilets. We feel this is only fair due to their excellent workmanship and the outstanding quality that they produce for our company Djembé Art. Through this we have built a long term relationship ensuring very strong reliability, loyalty, job satisfaction and high motivation to continue, resulting in a very high level of constant quality. These workers are proud to work for us and call the Djembes that they make for Djembé Art their babies.

In Germany there is a so called "Geiz ist Geil" mentality, meaning "greed is great". This has flooded the Djembe market with Tweneboa softwood Djembes from Ghana and Asian machine made dumping quality, that are mainly suited for decoration use only, easy to be found on auction platform etc.. If you see those low price drums being advertised and called the highest Master-class quality, than you know where our "greed is great" mentality has led us to. We believe that fairness and honesty is the reason for our success and we will continue to work that way even if we can't offer the cheapest drums because of all that. We can only change the vicious circle of dumping price instruments by educating people, so that they learn to appreciate and know what it means to have a real African handmade drum. With kind regards and all my respect: Gavin Grosvenor
The countries of Djembe origin

During the last 20 years we were able to promote an increased awareness for of quality amoungst Djembe makers.
Mali

now owns the pole positon for highest African Djembe quality and has also set new standards for sound quality and craftsmanship, with exceptionally fine carvings using the most favored hard woods available in excellent quality.


Guinea

used to produce the best Djembe drums in the 1990s and up to the turn of the century. The experience of the Malinke has developed over many generations. They are even said to be the inventers of the Djembe, especially their blacksmiths called Numun. The Guinea shell shaping is often slimmer, compared with Mali.


Ivory Coast

holds the third position for quality drum making carving Djembes almost entirely from Iroko Wood, which is slightly lighter than Lenke, Mahogany, African Rosewood, Buschmango etc. and not quite as intense and distinct. A typicall characteristic is the carving of two or three rings around the the Djembe foot.


Senegal

Djembes are rather rough in comparison using mainly Bushmago wood which can be rather brittle. The shaping of these Djembes often shows a very characteristic wide foot.


Gambia, Burkina Faso and others

produce Djembe drums too but often in a much lower quality



Ghana

Djembes are like Asian imports cheap and unprofessional. Ghanas traditional drums are the Kpanlogo and Oprente drums. Only since the Djembe has become so popular all over the world Ghana started Djembe making too. Unfortunastely they use mainly Tweneboa wood, which is extremely soft and weak. It is no real tonewood and because of its softness it can be carved very easily and fast in a fraction of the time. We from Djembé Art dont deal with Ghana Djembes, because the quality level is far to low.
You can determin a Ghana softwood Djembe by looking into the foot of the drum. They have very thick shells in order to give the weak wood more stability and you can do the fingernail test by pressing your fingernail into the wood.