my shopping
We support you with heart & knowledge
honest and helpful
customer friendly
fast and effective
focused on quality
founded on 25 years of Djembe experience
Djembe Drumming is our life. It has brought us together with so many wonderful people in the last decades without whom our life today would not be the same. We feel deep thankfulness and respect for this. Our aim is to give something back and strengthen the community of people who celebrate music together.
Djembe buying - how to buy a Djembe?


We have given the topic Djembe Buying a whole page, containing all the important knowledge that you need. Wether you are a real Beginner or a professional Musician you will find everything you need to know for choosing the best possible Djembe on this page. Here you find a complete guide to Djembe buying. With this knowledge nobody will be able to cheat you.
Djembe Enquiries, Drum recommendations and personal advice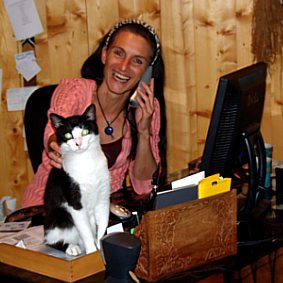 Ask Martina for details on products, instruments, invoices, shipping, delivery costs, etc. We are happy to assist you with our experience. We respond to all enquiries by E-Mail or telephone very fast. We are delighted to assist you in finding your personal favourite drum so that you can enjoy a life long friendship together. We can send you detail photos of all instruments and deeper information on request. We can also custom change or build individual instruments for you. Feel free to consult us for your enquiries.


martina@djembe-art.de

+49(0)2605 8495695
Drum makers expertise & specialized Djembe advice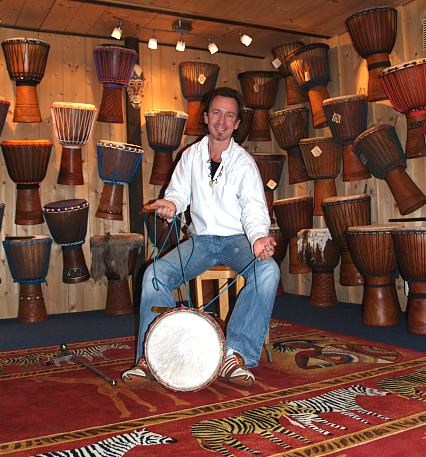 Ask Gavin for all detailed questions concerning drum making, re skinning, tuning and requirements on skins, rope, rings or tools.


gavin@djembe-art.de

+49(0)2605 8495695
Retightening & retuning

We retune your purchased drum free of charge even after years. For this purpose, please arrange an appointment with us. If you want to tune your Djembe or any other African drum yourself you will find a detailed description under Know-How. We ask for your understanding that this free service does not apply to dealers or customers who have purchased great quantities of drums such as schools. In these cases, we need to calculate the tuning with 10 Euros per drum.
Which Djembe drum accessories are useful?


To protect your Djembe we recommend a first-class, high-quality, sturdy and padded music instrument bag. Especially the drumhead has to be well protected. It can easily tear if damaged and a repair is expensive. The bag also protects your Djembe against damaging influences that can occur due to temperature fluctuations or moisture, and the Djembe bag or case keeps helps to keep the tuning of the drum longer. We recommend our beautiful bags with the order number Djembe Bag1, Bag2 or Bag3 . The fabric, the seams, the handles, the zippers, everything is of a very solid quality. It retains in shape and the Djembe can be easily packed in and out. It also has a small front pocket for additional accessories. We use it ourselves! We also recommend a suitable Djembe Top Cover for extra drumhead protection or as alternative if you cant afford the whole case. It is available starting at 18 Euros and can also be used to dim the sound when practicing for the benefit of sensitive neighbors :)

For learning and drumming at home, we offer five Djembe learning CDs in different degrees of difficulty.

Another handy and useful tool is our Ankle Bell, which is tied arround the ankle to amplify the beat you tap with your foot.
Djembe learning - Which Djembe tutorial, which learning material is useful?


Djembe beginners often ask how they can best learn to play Djembe and improve their skills. Since the 90s, we have regularly been giving Djembe Workshos and we have been sharing all our knowledge. For all those who prefer to learn Djembe playing at home, we have collected a wonderful selection of very suitable learning material. You can find it on the overview page CD, DVD, Book & App. If you are a real beginner, we recomend the Djembe Learning CD1 with a very easy-to-understand Djembe tutorial, which not only shows you the Djembe playing techniques, but also the first Djembe rhythms. It uses a very easy-to-understand Djembe notation for which you do not need to have any knowledge of the notes in order to understand them. Short video tutorials for the basics of playing Bass, Tone and Slap can be found on our Know-How page. For all advanced Djembe players, the Djembe Studio Premium App is the most comprehensive rhythm collection in the world.
Djembe Case, Djembe Bag - What is important?


A djembe bag must be able to withstand the following minimum requirements: it should be padded and tear resistant, moisture and rain repellent, have a strong carrying strap and strong zippers. Otherwise a case or bag makes no sense and can not protect your drum. On the global drum market, there are all sorts of cloth bags which, unfortunately, do not satisfy any of these requirements. Find out more about the different types. Our selection of Djembe Cases & Drum Bags has proven itself. When it comes to the right size you should measure the overall height of your Djembe and the upper outer diameter at the widest point, including the tensioning with knot and overlapping skin etc. Because everything should fit into the bag. Some drums also have very wide feet. Therefore it is also worth taking the lower foot diameter into account.
Djembe Carrying Strap - What makes the difference?


There are many different Djembe carrying straps. We differentiate in so-called Djembe waist straps, that help to hold the Djembe while playing in a sitting position and in standing straps, that are used to play a Djembe standing upright. The Djembe waist strap is about 1.5 m long and the Djembe carrying strap should be about 4 m.
We also distinguishes between simple cotton straps and more functional modern straps, which have an integrated fastening possibility, e.g. snap hooks and a length adjustment. It is advantageous if the straps are not too narrow in order to distributed the weight more evenly on the shoulders. Moreover, straps with solid materials are more suitable because they can not twist, contract or tear so easily. Our selection of Djembe Carrying Starps offers something for every taste.
Drumhead re heading and repair - what to do?


If you have a few craftsmanship skills, you can renew your own Djembe drumhead skin. A complete repair and tensioning guide can be found on our page Know-How. The matching goat skin, cow skin or whatever you prefer can be found on our page Drumhead Skins. If you do not want to do the work yourself, you can also use our repair service. We show further details on our site Repair .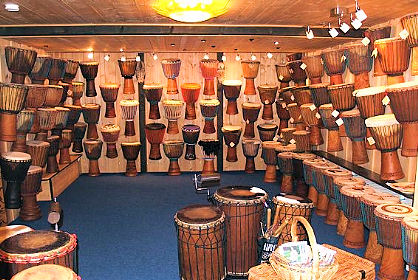 Test all drums in our display rooms


If you want to visite our shop in Germany we gladly take the time to give you our personal and individual assistance. This is the best way to convince yourself of our high quality and to find out which is the perfect drum for you. Many customers come to us from all over the world. We can recommend accommodation for you nearby so that your visite will be like a small holiday. Our region has lots to offer and is highly praised for its hiking trails and its beautiful nature, as well as its historic background.